Hello Everyone!
Hello there, I haven't been very active lately, but I'm still lurking around all the time, and have noticed Chao-Chan's wonderful contributions to the wiki, and I'd just like to extend a warm Thank You from the Black Cat Wiki Staff. We hope you'll continue to contribute in such enormous way.

Anyway, this blog is more to tell you few readers that this wiki now has the Message Wall feature instead of Talk Pages. All your Talk Pages have been archived and still be accessed, but now you have a more streamlined and social of communication.

If you want more information on the new Message Wall feature, check this link Here.

Well that's it really, Happy Editing!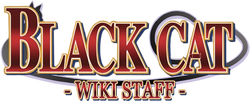 Ad blocker interference detected!
Wikia is a free-to-use site that makes money from advertising. We have a modified experience for viewers using ad blockers

Wikia is not accessible if you've made further modifications. Remove the custom ad blocker rule(s) and the page will load as expected.