Merry
Christmas
Everyone!
It's that time of year yet again folks! When everyone is hyper-active, hyper-happy and sometimes hyper-frustrated! Some people love it, some people hate it, regardless, Christmas brings everyone together! And so, to show our Christmas spirit, the Black Cat Wiki has a brand new Christmas theme!
There's not really much in this piece of News other than an update on the Theme, just a reminder that we're looking for some Staff who can help out on the wiki, for more information on what Staff entails, check the Staff Page, and if you want to apply for a Staff position, you have to have say, at least 50 edits, rather Substantial edits, not just fixing a mispelled word or two, revamps, adding information, or going through a whole article and fixing all the mistakes you see count as Substantial.
Anyway, apart from that the Staff of Black Cat Wiki just want to wish everyone very
MERRY CHRISTMAS!
And a
HAPPY NEW YEAR!
Thanks for all the hardwork through the year and have a good Holiday.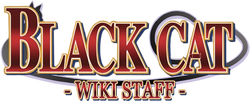 Ad blocker interference detected!
Wikia is a free-to-use site that makes money from advertising. We have a modified experience for viewers using ad blockers

Wikia is not accessible if you've made further modifications. Remove the custom ad blocker rule(s) and the page will load as expected.