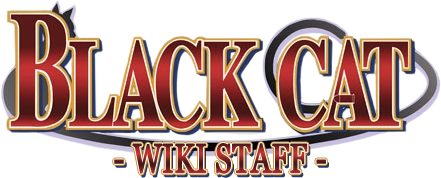 Bureaucrats
Bureaucrats are Black Cat Wiki editors who have been trusted with full access to restricted technical features (tools) and they can protect and delete pages, and block other editors. Please note that they do not own the Wiki however, they are the highest power, yet are still equal to other editors in terms of responsibility for wiki articles. Please refer to Black Cat Wiki:Administrators for more information.

'●' indicates this Bureaucrat is currently Inactive
Administrators
Administrators are Black Cat Wiki editors who have been trusted with access to restricted technical features (tools) and they can protect and delete pages, and block other editors. Please note that they do not own the wiki in any way and are equal to other editors in terms of responsibility for wiki articles. Please refer to Black Cat Wiki:Administrators for more information.

'●' indicates this Administrator is currently Inactive
Staff
Staff are this wiki's moderators, a team of editors that seeks to improve the quality of regular articles. While basically they are equal to other editors in terms of responsibility for wiki articles, they are especially trusted to keep the articles in good shape. For more information, refer to Black Cat Wiki:Administrators. The Black Cat Wiki is currently looking for prominent and capable editors that can fullfil a staffing role. If you are interested in such a position, notify one of the active staff members mentioned above.

Ad blocker interference detected!
Wikia is a free-to-use site that makes money from advertising. We have a modified experience for viewers using ad blockers

Wikia is not accessible if you've made further modifications. Remove the custom ad blocker rule(s) and the page will load as expected.